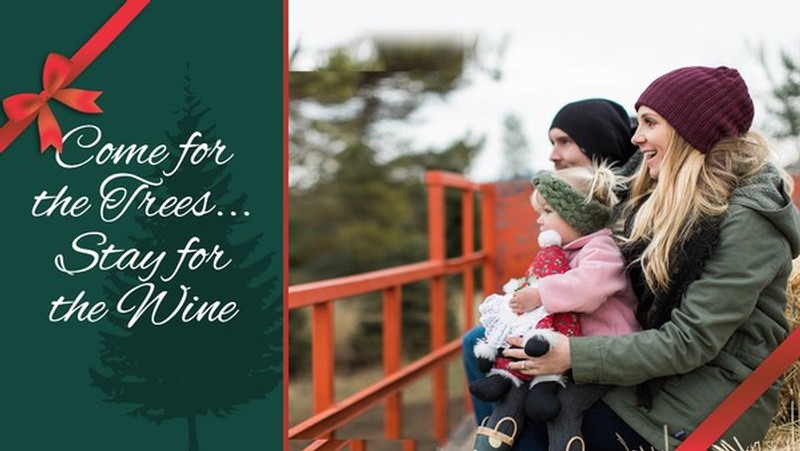 WOODWARD CHRISTMAS TREE FARM
We are now closed, thank you for a great season and Merry Christmas!
The Woodward Christmas Tree Farm has been a part of many people's Christmas Traditions
for over 20 years.
Once again we welcome you and your family to come to the "Christmas Tree Patch" to select your own fresh Christmas tree 7 days per week. Each weekend we will have hay wagon rides, mulled wine and hot apple cider to enjoy by the bon-fire and a food truck with delicious warm goodies and hot chocolate for the kids. This is a great time to come out for an outing with the whole family!
During the week, it's a bit of a quieter experience. Wine and cider tastings at Privato Vineyard and Winery will be available on weekdays. You are welcome to drive out to the patch and then go for a walk to scour the 20 acres of trees. Bring your furry friends for a romp through the fields and enjoy the peace and quiet of the winter wonderland.
We also will have pre-cut trees if you prefer to quickly grab and go!
COVID 19 Changes and Protocols - Updated November 21, 2020
We can't wait to see all of our new and returning customers but please keep in mind that things will be operating quite a bit differently this year. In order to adhere to Public Health Authority safety guidelines and capacity limitations with your safety in mind we have to have a system in place to metre our visitors to the property to avoid having your family wait in long line-ups. On weekends we will still be having hay wagon rides but again we have to limit the amount of folks on the wagon at any given time to ensure that social distancing is adhered to between groups. (Update Nov 21st - Hay wagon rides are no longer allowed as per Interior Health instructions. We will still have the hay wagon to bring your tree back for you.)
In this regard we are delighted to announce that we will now be offering an online reservation system where you are able to book a time prior to coming out to choose your tree. We are very much hoping that this measure will not only keep you and your family safe but avoid waiting in long lineups. Unfortunately in order to implement all of these new protocols and additional staff, we will now be asking for a nominal fee to access the Patch. This fee is for the weekends only and so we strongly urge you to consider coming out on weekdays where a reservation is still required but it is complimentary.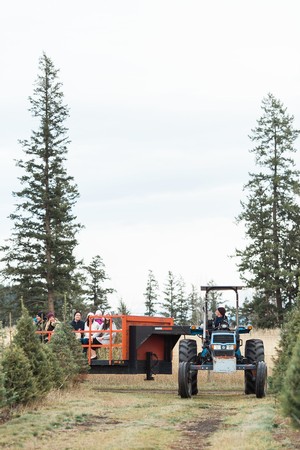 Once you have entered the Christmas Tree Patch, you and your family are welcome to explore the grounds as you please and take in all of the festivities. We ask that you keep your visit to a one hour timeframe while on the property so others can enjoy the fun as well. We do ask that masks are worn in common areas and they will be mandatory on the hay wagon and indoors. Social distance measures of 2 meters will be in place throughout the property. We are only able to accomodate groups of 6 or less people for each reservation. Please keep your group limited to a 6 person bubble and remain in that bubble while visiting. We are no longer able to accomodate large groups. We are very sorry about this as we enjoyed having the large family groups.
If you do arrive without a reservation, we will try to accomodate you if there is an available booking, however if there is not any availability you will not be allowed into the patch but you are most welcome to choose a tree from our pre-cut selections.
We will be offering wine tasting reservations on weekdays only. If you plan to taste wine please ensure you are reserving your visit Monday-Friday. No wine tasting will be available on weekends due to space limitations, however, we will be offering delicious mulled wine and hot apple cider on Saturdays and Sundays to enjoy by the bonfire. We will be providing more fire pits to enjoy in order for you all to adhere to the 2 meter social distancing requirement. We are thrilled to have our resident food truck Cheffrey 911 on the premises offering a variety of smokies, hot dogs and other delicious goodies to warm your bodies, as well as hot chocolate for the kiddos.
If you are coming simply to enjoy Privato, Woodward Cider Co and Cheffrey 911 no reservation is required. A reservation is only required for hay wagon rides or walking access to the Christmas Tree Patch.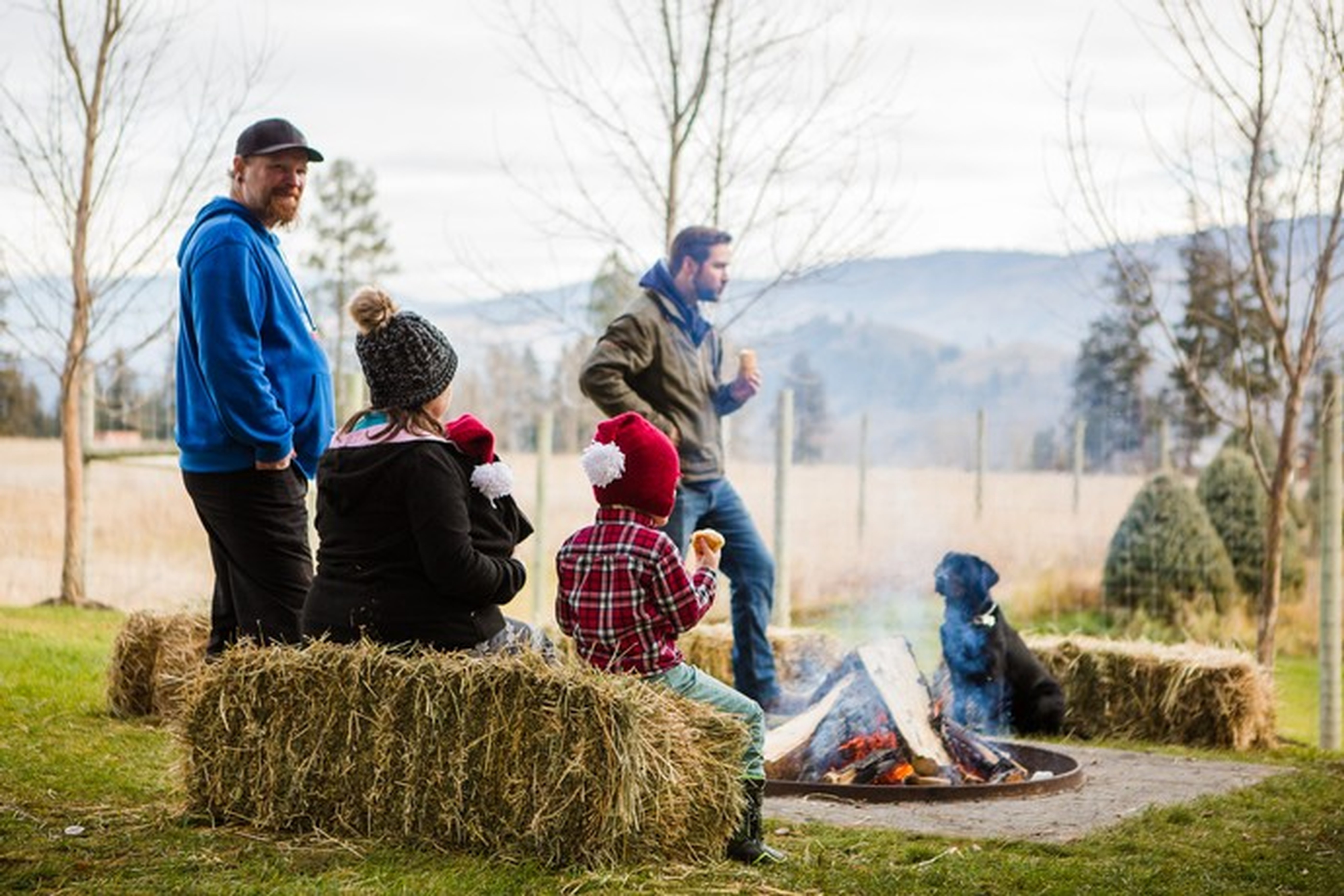 Christmas Season: November 21st to December 20th
Now Closed
Hours:
Monday-Friday 10am to 4pm
Saturday and Sunday 9am-4pm
By Reservation Only!! Reserve your time here.
CHRISTMAS TREES
We have several varieties of Christmas Trees to choose from. Here at the Christmas Tree Patch prices are a flat price per tree varietal, so whether the tree is 3 feet high or 10 feet high, the price is the same in order to ensure that immature trees are not cut down. We are also offering pre-cut Fir trees this year and they are all pre-priced. A reservation or fee is not required to come and view and choose from our selection of pre-cut trees.
We are allowing and encouraging you to bring your own hand saws. Any power tools or axes are prohibited. Measures will be taken to sanitize our saws between uses.
Dogs are definitely allowed as long as you have them on a leash and clean up after them.
We also have a Christmas Gift Shop, a Wine Shop and Cider Shop for all your shopping needs. Access to the gift shop will be monitored for social distance measures and there may be a wait to enter the store to ensure we are within our capacities. We ask that only 1-2 people from each group enter the gift shop at a time to keep safe and distanced. Masks must be worn while visiting the gift shop.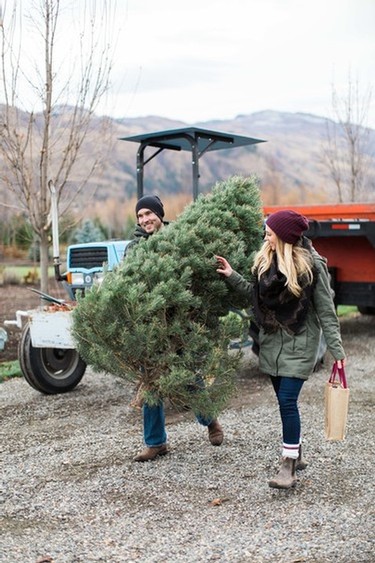 CHRISTMAS TREE FARM PRICES
Choose and Cut Trees
All choose and cut trees from the Christmas Tree Patch are one price of $59.99 plus GST for any species or any size whether it is 2 feet or 10 feet. We have the following varieties of trees to choose from.
Scotch Pine
Douglas Fir
Blue Spruce
Green Spruce
Con Color Fir
We will also have a number of pre-cut trees that will be priced at 59.99 as well. We may have a few pre-cut bargain trees that will be priced at 25.00.
GST will be applied to these prices!
We accept cash, but for your safety we prefer debit for the Christmas Trees (no credit cards please) at our new outdoor pay station.
OTHER PLACES TO BUY WOODWARD CHRISTMAS TREES
Unfortunately we are no longer providing Christmas Trees to other retailers. You are now only able to purchase our trees at our farm. We used to have tree lots at the two Safeway stores in Kamloops but we will no longer be providing trees there. However, we WILL have pre-cut trees for your convenience at the farm. So if you are in a hurry, prefer not to make a reservation or just prefer not to cut your own we will have pre-cuts for your convenience.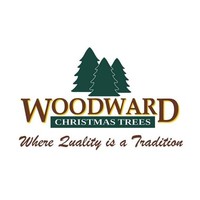 More Info: Click Here: Woodward Christmas Trees on Facebook