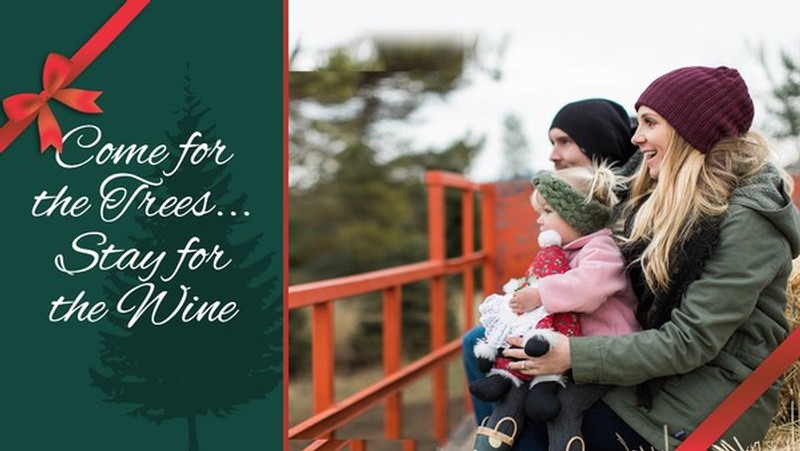 WOODWARD CHRISTMAS TREE FARM IS ONCE AGAIN OPEN
We are now open until December 19th (trees available while quantities last).
Monday - Friday 10am-4pm
Saturday & Sunday 9am-4pm
The Woodward Christmas Tree Farm has been a part of many people's Christmas Traditions for over 30 years.
Once again, we are happy to welcome you and your family to our "Christmas Tree Patch" to select your own Christmas Tree.
Each weekend, we will have hay wagon rides, mulled wine, and hot apple cider to enjoy by the bon-fire.
This year we are excited to have the Rotary Club BBQing delicious warm goodies and serving up hot chocolate for the kids. And of course, the Winery and Cidery are open for tastings and to browse the Christmas Gift Shop.
This is a great time to join us with the whole family!
Tickets are $5 per person (4 years old and up) and includes a hay wagon ride if you choose.
And… we are super excited to announce that Santa will be here at the Christmas Tree Patch for opening weekend this year. You can find him in the Patch throughout the weekend of Nov 20th/21st, between 10am-3:30pm.
Visits with Santa, and the ability to take your own photos will be included in the $5 ticket price during these days.
During the week the Winery and Cidery WILL be open for tastings, but all other services are offered on weekends only. You are welcome to come out to the patch and then go for a walk to scour the 20 acres of trees. Bring your furry friends for a romp through the fields and enjoy the peace and quiet that winter brings to the "patch". Weekdays are free for everyone.
Our current supply of trees will be limited for a few years until our baby trees grow to maturity. Therefore, we will also have pre-cut trees throughout the Christmas Tree Patch as well as at the farm gate if you prefer to quickly grab and go!
COVID19 UPDATED SAFETY PROTOCOLS- NOVEMBER 2021:
With your safety in mind, it is our priority to adhere to Public Health Authority safety guidelines and capacity limitations.
We will have a system in place to metre our visitors to the property to avoid congestion or having to wait in long lineups.
On weekends we will still be offering hay wagon rides, but we would like to limit the amount of folks on the wagon at any given time to ensure that social distancing is adhered to between groups.
In this regard we are delighted to announce that we will again be offering an online reservation system where you are able to book a time prior to coming out to choose your tree. We are very much hoping that this measure will not only keep you and your family safe but avoid waiting in long lineups.
Unfortunately, in order to implement all of these new protocols and additional staff, we will now be asking for a nominal fee to access the Patch. This fee is for the weekends only and so we strongly urge you to consider coming out on weekdays where a reservation is still required but your visit is complimentary.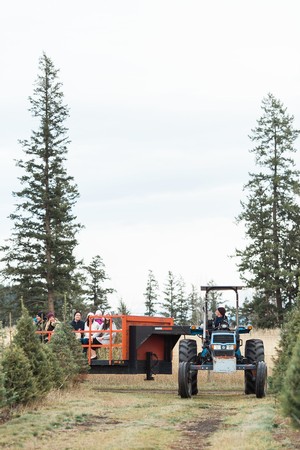 WHAT TO EXPECT:
For weekend visits, tickets can be purchased online and Tree Time reservations can be made here
OR we can assist you when you arrive here at the farm.
**Please note: During our busier times and days it is typical to have lineups and waits for the hay wagon rides into the tree patch. We do recommend a reservation no matter the day or time if you're in a hurry or if waiting in weather conditions is not ideal.
Remember that weekdays are free for all, (free for kids 3 and under daily). Once you have entered the Christmas Tree Patch, you and your family are welcome to explore the grounds as you please and take in all the festivities. We do ask that masks are worn in all indoor areas, except when tasting wine or cider.
Please keep a social distance of 2 meters in all areas as much as possible to respect the other visitors on site.
Although we strongly encourage you to book your time with us, we will accommodate you as much as possible if you do arrive without a reservation. You are always welcome to choose a tree from our pre-cut selections as well which does not require a reservation.
We will be offering wine tasting via reservations on both weekdays and weekends. You can make a reservation online using this link We will accept walk-ins for tasting as much as possible as well. We will be offering delicious mulled wine and hot apple cider on Saturdays and Sundays to enjoy by the bonfire. We are thrilled to have the Rotary Club BBQing on the premises offering hot dogs and other delicious goodies to warm your bodies, as well as hot chocolate for the kiddos.
If you are coming simply to enjoy Privato and Woodward Cider Co, we strongly suggest booking a tasting to secure your time with us but we will accept walk-ins if the space allows us to.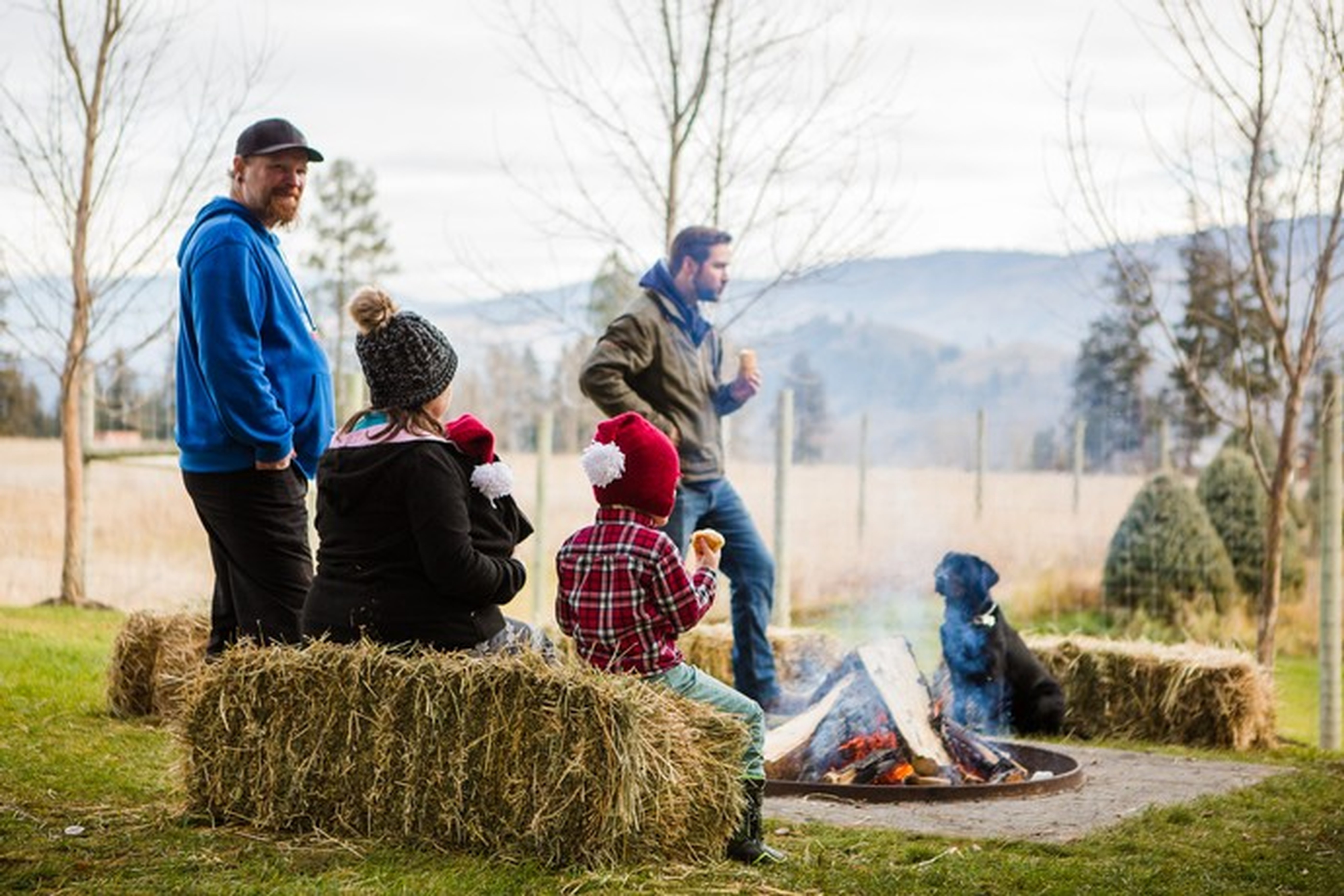 CHRISTMAS TREES & GIFTS
We have several varieties of Christmas Trees to choose from. Here at the Christmas Tree Patch, prices are a flat price per tree varietal, so whether the tree is 2 feet high or 10 feet high, the price is the same in order to ensure that immature trees are not cut down. We are also offering pre-cut Fir trees this year and they are all pre-priced. A reservation or fee is not required to come and view and choose from our selection of pre-cut trees at the farm gate.
We are allowing and encouraging you to bring your own hand saws. Any power tools or axes are strictly prohibited. Measures will be taken to sanitize our saws between uses.
Dogs are welcome as long as you have them on a leash and clean up after them.
We also have a Christmas Gift Shop, a Wine Shop and Cider Shop for all your shopping needs. Access to the gift shop will be monitored for social distance measures and there may be a wait to enter the store to ensure we are within our capacities. We ask that only 1-2 people from each group enter the gift shop at a time to keep safe and distanced. Masks must be worn while visiting the gift shop.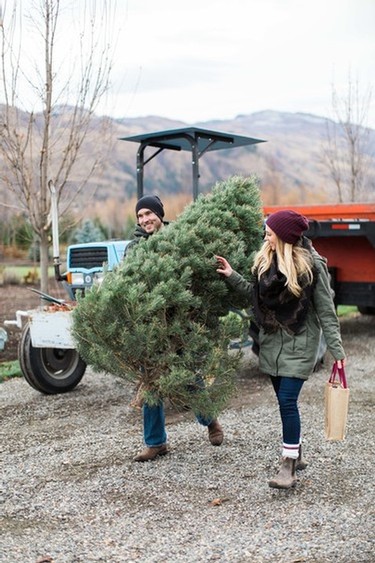 CHRISTMAS TREE FARM PRICES
Choose and Cut Trees:
All choose and cut trees from the Christmas Tree Patch are one price of $60.00 plus GST for any species or any size whether it is 2 feet or 10 feet.
We have the following varieties of trees to choose from.
Douglas Fir
Blue Spruce
Green Spruce
Con Color Fir
Pre- Cut Trees:
We will have a number of pre-cut trees that will be $60+tax, as well as a handful of pre-cut bargain trees for $25+tax.
We also have a limited amount of tall trees set asside (10 feet +) for $79+tax
We accept cash, but for your safety we prefer debit be the payment option of choice.
** Want to pair your tree picking with a Wine/Cider stock up?With a min $300 purchase of 1 case of wine, or 3 cases of cider; your Christmas Tree Pricetag will be waived, and you may take your Tree home free of charge**
Wine and Cider Club Members
We value our club members and there are so many of you now. There are many perks to being a member and at Christmas time there are many opportunities to enjoy your exclusive treatment. As always your Christmas tree is discounted by 10% but your access to the Patch, hay wagon rides and Santa are complimentary. And of course, when you come to get your Winter Wine or Cider Club Package, you and your guest receive a complimentary tasting or mulled wine or hot apple cider. Not a member of our Cider Club yet? If you join our cider club you get a 25% discount on your first purchase to join the club. Or if you purchase 3 cases of cider when joining the cider club the price of your Christmas Tree can be waived too.
OTHER PLACES TO BUY WOODWARD CHRISTMAS TREES
Our current supply of Christmas Trees is limited until our younger trees maturity. Accordingly, we are no longer providing Christmas Trees to other retailers. You are now only able to purchase our trees at our farm. We used to have tree lots at the two Safeway stores in Kamloops but we will no longer be providing trees there. However, we WILL have pre-cut trees for your convenience at the farm. So if you are in a hurry, prefer not to make a reservation or just prefer not to cut your own we will have pre-cuts available for your convenience.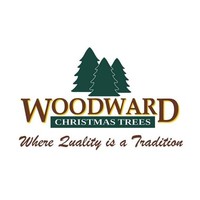 More Info: Click Here: Woodward Christmas Trees on Facebook