Music in the Vineyard - Friday Night Fests
Summer just got hotter! Enjoy live music, awarded Privato wine and Woodward Cider Co craft apple cider in the Privato Event Gardens.
Music in the Vineyard Friday Night Fests
Every second Friday, July 2nd - September 10th come on down to Privato for a garden party like no other! Surprise your senses, surrounded by the unmatched beauty of the Privato Event Gardens, while sipping wine or Woodward Cider Co and listening to the sweet sounds of our exciting lineup of musicians.
Each event will have a food truck in attendance so you can enjoy stellar local dinner cuisine while enjoying the show. (Accordingly no outside food or drink will be permitted)
These events are festival style seating, please bring a lawn chair or blanket for your comfort.
Music plays from 6pm-9pm in the Privato Event Gardens. These events are 19+ only, ID may be required to enter. Be sure to bring your e-ticket to the gate for entry. No refunds unless the show is cancelled by the vendor.
We have opened up 50 tickets for each event, if restrictions are lifted we will release more tickets.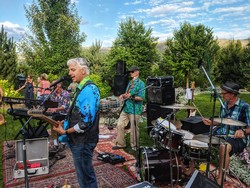 July 2nd 6pm-9pm 19+
Party on with Paisley Groove rocking the house July 2nd. Returning to the Event Gardens to get you grooving once again, Paisley Groove offers you a fun, funky and entertaining show.
"Dynamic, groovy, entertaining, and highly dance-able performances is what Paisley Groove is all about. Tunes and rhythms that you will want to dance to and sing along with from the 60's and 70's, including the Beatles, the Stones, Joe Cocker, Santana, as well as some original Flamenco inspired grooves." - Facebook
This rock'in Music in the Vineyard will have you shaking your groove thing all night so be sure to bring your dancing shoes.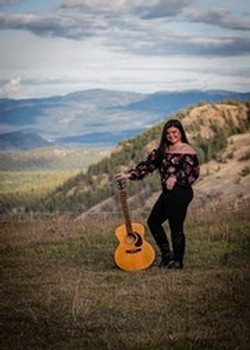 July 16th 6pm-9pm 19+
Shawna Palmer is a full time musician. Formerly one of 3 lead singers in a well known local band called "Tennessee Walker". Shawna's very eclectic taste in music gives her that country sound with a bit of rock and grit underneath. Enjoy this extremely entertaining set with her 4 piece band.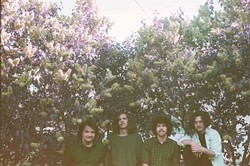 July 30th 6pm-9pm 19+
Mother Sun create warmth with their music. The four-piece from the interior desert of Kamloops, British Columbia makes thought-provoking psych pop that weaves contemplative lyrics through colourful tones and jazz-inspired grooves. Drawing from diverse influences of music and art from all over the world, their distillation of psych, dream pop, post-punk and jazz, combined with a surreal pop art aesthetic, continues to grow and change shape with each release.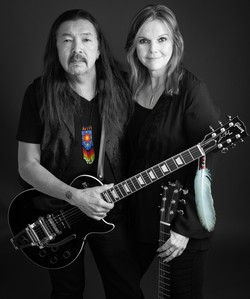 August 13th 6pm-9pm 19+
The Margit Sky Project is an incredibly diverse group of musicians that play as a duo or up to a six-piece band. The core duo, comprised of Margit Gossage and Rod (Little Sky) Bandura, are partners on stage and in life. When you hear them play, the close connection between the two will leave you wanting to hear more. They deliver songs with a strong power of emotion whether the songs are the band's original or cover tunes.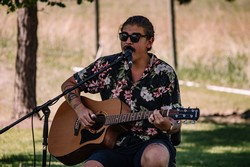 Photo by Whiskey and Wine Photography
August 27th 6pm-9pm 19+
A songwriter and performer, Jeremy made the leap from a full time Carpenter to musician in 2015. From early beginnings in piano at the age of 2, music has been his passion for his entire life; playing Guitar, Piano, Drums, Bass, Mandolin, Banjo, Flute, Accordion and more. Jeremy will be joining up with his bandmates to create a big sound and an entertaining evening.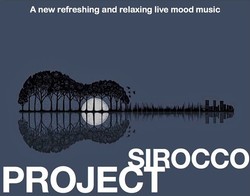 September 10th 6pm-9pm 19+
Looking for some chill Flamenco inspired tunes? Well look no further as we welcome The Sirocco Project back to the Event Gardens September 10th. Summer is coming to an end so let's heat things back up with these hot cover tunes of the ages paired with a cool Flamenco twist keep you refreshed while you dance into the evening.
Sirocco Project is a nouveau pop, Latin Spanish flamenco, American acoustic, Japanese guitar, crossover band. They love playing Jessie Cook, Gypsy Kings and other great artists of the ages..