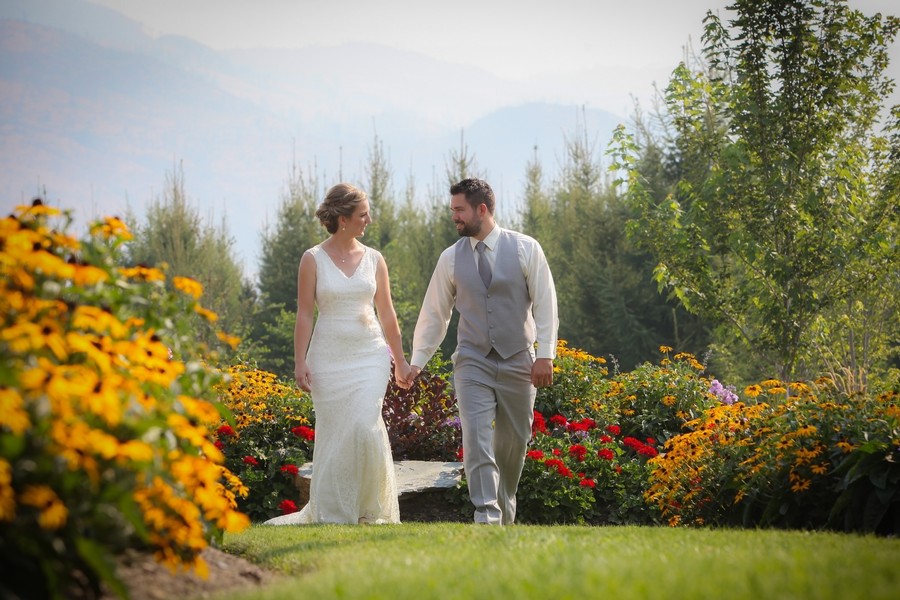 Weddings at Privato
Fall In Love with Weddings at Privato
A truly authentic vineyard wedding awaits at Privato Vineyard and Winery. Weddings at Privato offer an idyllic setting in our enchanting gardens along with vast views of our vineyard and sweeping vistas of the Thompson Valley Wine Country. This combination of rustic beauty and delicate elegance conjure a magical setting for your special day. Our gardens provide a postcard backdrop for a romantic dream wedding in the Thompson Valley's most remarkable wedding venue.
Our Packages
"Love Is All You Need" with our Suzie's Stroll Elopement Package

People love our romantic gardens for personal and intimate ceremonies. So when they ask if we do elopements, yes we do!
Picture yourself, your love and only those nearest and dearest enrobed in a kaleidoscope of colors taking Suzie's Stroll through our meandering alley of Black Eyed Susans and lush hydrangeas to your private altar.
Included in your elopement package is the exclusive use of our private gardens for a 1.5 hour period Monday through Thursdays during the late spring and Summer months . Escape to the privacy and solitude of our gardens surrounded only by the sounds of nature and your vows of love. Enjoy this informal and private ceremony with just the necessary few or up to twenty guests after which you may explore the gardens and surrounding vineyard for photos and socializing. You will have full access to our 35'x45' hexagon tent for coverage in the case of unpredictable weather.
Offering: June- September Monday through Thursday between the hours of 11am and 3pm

Say "I Do" with our Golden Path Classic Wedding Package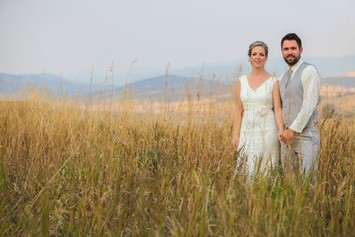 We understand that in these changing times a "one size fits all" wedding is not always ideal. So we have taken the pressure off and cultivated a wedding package that you can customize to suit your needs for your "golden path" to wedded bliss. Imagine walking through our winding promenade of gilded grasses and lush florals opening up to your waiting guests and the one you love. Follow this romantic dream ceremony by sipping wine with them all aside a lush vineyard under a covered canopy.
Now you can book all the offerings of our classic wedding package including our private garden ceremony followed by our much loved wine reception, or, simply enjoy our beautiful gardens while you say "I Do" before embarking on to your offsite dinner reception.
In this package you and up to 150 guests (guest count will be determined by restrictions in place at the time of the wedding) will bask in the glory of the exclusive use of our stunning gardens for up to a 3 hour period during the late spring and summer months.
The Ceremony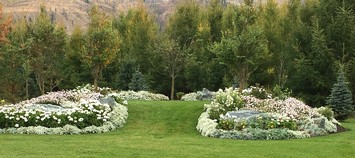 Delight your audience of family and friends with the idyllic surroundings and naturally decorated alcove of lush florals in a beautiful garden ceremony. The gardens are yours to enjoy for 1.5 hours for your ceremony, photography and socializing. You will be well equipped in the case of poor weather with the private use of our 35'x45' hexagon tent.
Ceremony Offering: June-September Friday through Sunday
The Wine Reception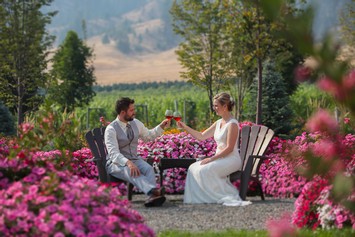 Once you have completed your nuptials you will have the opportunity to extend your exclusive stay in our remarkable gardens for an additional 1.5 hours while treating your guests to an unforgettable wine reception adjacent to our sweeping vineyard. Wine service will be offered for a one hour period immediately following the ceremony. You and your guests will appreciate the opportunity to relax and enjoy refreshments in the unique beauty of our venue while you can take advantage of our nearly 80 acres of prime photography locations to capture all of your special moments.
Wine Reception Offering:
June-September Friday through Sunday
June-September Monday-Thursday (add on to an elopement)
*Does not include the price of wine and food*
2021/2022 Special
*Secure our wine reception offering with your ceremony choice at the time of booking and receive a 10% discount on your reception venue fee.*
*NEW* Limelight Sunset Wedding Package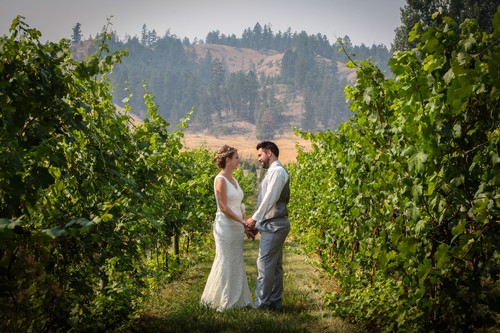 Let your love shine in the limelight with our new sunset wedding.
Imagine a sun-kissed ceremony beneath the panoramic views of the North Thompson Valley in an intimate and enchanting private garden followed by award-winning wines and delicious canapés while nestled next to our vibrant vineyard basking in the glow of the setting sun. That is exactly the romantic dream wedding you will receive when you book our new Sunset wedding Package. The sunset wedding is offered on Saturday, or long weekend Sunday evenings July through August. From 6pm until 10pm our captivating garden venue will be yours to enjoy for your evening ceremony followed by dinner and refreshments under our 35'x45' hexagon tent. Enjoy a worry-free planning process with delicious seasonal cuisine packages from one of our approved caterers, expert wine pairing recommendations, and polished service from two of our staff members. Sit back, relax, and allow us to bring the magic to you at the most elegant wedding venue in the Thompson Valley Wine Country.
Sunset Package offering: July and August, Saturday and long weekend Sunday evenings from 6pm-10pm
ABOUT THE VENUE AND BOOKING
Our ceremonies are offered from June until mid-September
A 50% non-refundable advance deposit is required to confirm and reserve the date for your ceremony. The remaining 50% of the venue fee, including taxes, is payable on March 1st.
*In the event that the wedding cannot proceed as planned due to the COVID-19 pandemic we will offer the opportunity to reschedule your event, or, in some cases a full refund of the deposit will be arranged*.
Also included in the venue fee is a one hour rehearsal the day before the wedding (must be booked in accordance with our oher events), parking for up to 50 vehicles, and a 35' x 45' hexagon tent. You and your fiancé will also enjoy a complimentary private wine tasting prior to your special day to select the wine you would like to enjoy at the wine reception. We also offer a 10% discount on all case orders of wine to be enjoyed at your on or off-site wedding reception.
Chairs and cocktail tables are not provided. You are welcome to arrange to have chairs and cocktail tables delivered to the wedding gardens the day of the wedding and picked up by 10:00 am on the following business day. Food service provided by a licensed caterer must be offered along with any wine service during the event. For details of caterers and any other questions, please contact our Events and Tasting Room Manager, Kristin or call 250.579.8739. We appreciate you considering Privato as part of your wedding plans and look forward to being part of making your day incredibly unique and special.
5505 Westsyde Road, Kamloops, BC, Canada V2B 8N5 | 1.250.579.8739 | info@privato.ca | privato.ca